www.BillSmithBooks.com
Outlaw Galaxy
Books
Outlaw Galaxy Stories
Order Books
The Tip Jar
Newsletter
www.BillSmithBlog.com
Bill Smith's Bio
Bill's
Star Wars
Books
FAQs
Links
Privacy Policy
Get Bill's FREE newsletter: Just email bill@billlsmithbooks.com and type "subscribe."

The Tip Jar
Contributions to the Tip Jar are gladly accepted. Just go to www.PayPal.com and send money (in whatever amount you wish) to bill@billsmithbooks.com.
Thank you for supporting an independent author!

Contact
Email comments & questions:
bill@billsmithbooks.com
Bill Smith Books
PO Box 124
Malone, NY 12953
BillSmithBooks, Outlaw Galaxy, Outlaw Galaxy Tales and Imagination Forge are trademarks of Bill Smith. © 2009 by Bill Smith.
Newsletter
Get the FREE Newsletter and Story Previews by Email!
Each newsletter features the latest news about Bill's writing, previews of upcoming Outlaw Galaxy novels and short stories and ... whatever else catches Bill's attention.
Read the archives below.
2009 Newsletters: February |
2006 Newsletters: March
2002 Newsletters: January | February
To Subscribe: You can also subscribe to get the newsletter by email.

Just email bill@billsmithbooks.com and type "Subscribe" to sign up! You'll get every issue of the newsletter delivered direct to your inbox.

To Unsubscribe: You may unsubscribe at any time. Just reply to the newsletter or email bill@billsmithbooks.com and type "UNSUBSCRIBE" or "REMOVE" in the subject or body of the message.
All information shared with BillSmithBooks.com (including your e-mail address and any other personal information) is strictly confidential. We do not share, sell or otherwise disclose any information to third parties.

A Note to Parents: I make a sincere effort to write thrilling space adventure stories that are acceptable and enjoyable for readers of all ages. As I'm fond of saying, "I write science fiction stories for the young and the young at heart."

Advertisers
If you'd like to advertise on this site or in any of my upcoming newsletters or ebooks, pleae email me: bill@billsmithbooks.com for rate information.

BillSmithBooks accepts text-only advertising with hyperlinks (no graphics). Since Outlaw Galaxy stories are intended for audiences of all ages, I reserve the right to review all ads for approval.
Bill Smith is the author of: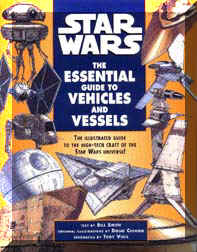 Star Wars:
The Essential Guide to Vehicles and Vessels

Star Wars: The Essential Guide to Weapons and Technology
Star Wars: The Roleplaying Game, 2nd Edition (West End Games)