www.BillSmithBooks.com
Outlaw Galaxy Novels
Outlaw Galaxy
Stories
Order Books
The Tip Jar
Newsletter
www.BillSmithBlog.com
Bill's Bio
Star Wars Books
FAQs
Links
Privacy Policy
Get Bill's FREE newsletter: Just email bill@billlsmithbooks.com and type "subscribe."

The Tip Jar
Contributions to the Tip Jar are gladly accepted. Just go to www.PayPal.com and send money (in whatever amount you wish) to bill@billsmithbooks.com.
Thank you for supporting an independent author!

Contact
Email comments & questions:
bill@billsmithbooks.com
Bill Smith Books
PO Box 124
Malone, NY 12953
BillSmithBooks, Outlaw Galaxy, Outlaw Galaxy Tales and Imagination Forge are trademarks of Bill Smith. © 2009 by Bill Smith.
Bill Smith's Biography
Bill Smith's writing credits include:
The Outlaw Galaxy series
Star Wars: The Essential Guide to Vehicles and Vessels
Star Wars: The Essential Guide to Weapons and Technology
Star Wars: The Roleplaying Game (Second Edition)
Bill Smith's books have sold nearly half a million copies. He has written for leading publishers such as Del Rey Books, Little Brown, Lucasfilm, Topps, West End Games, TSR Inc. and Wizard Press.
From 1991 to 1997, he served as the Star Wars roleplaying game line editor for West End Games. In 1995, he was voted "Favorite Designer" by the RPGA, the world's largest organization for role-playing game enthusiasts. He has also written for Hershey Foods, the WIT Agency, and has been involved in motorsports promotion, marketing and journalism for two decades.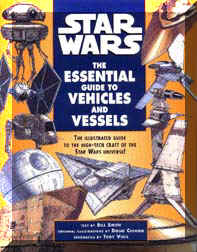 Bill was in the fourth grade when he realized that he wanted to be an author. Growing up in a small, rural town, he discovered Star Wars not through the movies, but through comics and novels.
He very clearly remembers pestering a classmate to borrow his copy of the Marvel Star Wars Super Special, flipping through scenes of X-Wing and TIE fighters battling above the Death Star and thinking to himself, "This is what I want to do when I grow up!"
It was all downhill from there. He spent countless spare moments writing stories featuring Han Solo and his trusty sidekick, Luke Skywalker, and soon began creating his own characters and settings. In eighth grade, he spent a few minutes flipping through a friend's Dungeons and Dragons rulebook and was captivated. It led to many hours creating adventures set in the world of elves, orcs, and twenty-sided dice.
Bill earned a BA Public Communications from the The College of Saint Rose in Albany, NY, where he was editor of the student newspaper. During his college years, he also did public relations and race announcing for the Champlain Valley Racing Association.

In 1991, Bill joined West End Games and fulfilled his childhood dream of professionally writing and developing role-playing games and stories. As line editor for the Star Wars roleplaying game, he edited or contributed to over forty Star Wars game products, authored updated versions of the game, and wrote two Star Wars Essential Guides for Del Rey books.
In 1997, Bill left West End. He and his wife returned to their hometown in the foothills of New York's Adirondack Mountains. At that time, he began writing what would become the Outlaw Galaxy series. In addition, he served as PR director and promoter at Mohawk International Raceway and taught at a local high school.
In 2000, Bill and his wife moved to Central Pennsylvania, where he worked as a copywriter for an advertising agency. He developed and wrote the original HersheysRacing.com website. In addition, he has held a number of jobs, both dreadfully ordinary and delightfully unusual. He particularly enjoyed his time as a ghost tour guide in Gettysburg, PA (GhostsOfGettysburg.com) and as announcer at Hagerstown Speedway and Susquehanna Speedway Park.
In 2004, Bill and his family returned to their hometown in Northern New York. Bill works a day job to support his writing habit and continues to publish Outlaw Galaxy stories. He hopes you enjoy them.