www.BillSmithBooks.com
Outlaw Galaxy
Books
Outlaw Galaxy Stories
Order Books
The Tip Jar
Newsletter
www.BillSmithBlog.com
Bill Smith's Bio
Bill's
Star Wars
Books
FAQs
Links
Privacy Policy
Get Bill's FREE newsletter: Just email bill@billlsmithbooks.com and type "subscribe."

The Tip Jar
Contributions to the Tip Jar are gladly accepted. Just go to www.PayPal.com and send money (in whatever amount you wish) to bill@billsmithbooks.com.
Thank you for supporting an independent author!

Contact
Email comments & questions:
bill@billsmithbooks.com
Bill Smith Books
PO Box 124
Malone, NY 12953
BillSmithBooks, Outlaw Galaxy, Outlaw Galaxy Tales and Imagination Forge are trademarks of Bill Smith. © 2009 by Bill Smith.
Bill Smith

is the author of:

Star Wars: The Essential Guide to Vehicles and Vessels

Star Wars: The Essential Guide to Weapons and Technology

Star Wars: The Roleplaying Game, Second Edition
His books have sold nearly half a million copies. Bill now writes and publishes the

Outlaw Galaxy

series:

It is a time of legends and myths,
of technology and magic,
of epic struggles and journeys to the stars…

A time when great heroes confront the forces of darkness…

A time when adventure beckons
across the Billion Worlds of Outlaw Galaxy!


Outlaw Galaxy Books
Outlaw Galaxy 3: Hunter's Truth and Other Tales. Seven short stories filled with the adventure and wonder of the Outlaw Galaxy universe:
* A young woman gets a history lesson that she'll never forget.
* A fleet of colony ships sets out to tame a planet full of riches.
* Whatever happened to Diamond Black Joe after Outlaw Galaxy 1: Trip and the Space Pirates?
Plus four more stories. (24,000 words)
Read the Introduction or order the Ebook: Just $1

Outlaw Galaxy 2: Fugitive Among the Stars. Trip and his friends are planning a simple vacation in the wilderness of Karrison when they are caught in a life and death battle against the hired guns of gangster Croll Weixx! (72,500 words)
Read sample chapters or order the Ebook: Just $2
Outlaw Galaxy 1: Trip and the Space Pirates. Trip dreams of someday traveling to the stars...but he never imagined that he'd be kidnapped and forced to join Diamond Black Joe's pirate gang! (69,000 words)
Read the Ebook online for FREE or order the Print Version $4.00

Outlaw Galaxy Short Stories
Get a sampling of the Outlaw Galaxy universe with these short stories:

Echoes A father and son share a very special memory of the past. (1,750 words)
Little Wind You're destined to be a legendary warrior, the inheritor of your people's most sacred traditions...and it all feels like a lie. (5,300 words)

Here. Alone. There's nothing better than spending the day watching the starships coming in to land at the starport, imagining what their stories might be.... (2,300 words)

One Man's Trash No matter how desperately you need a new starship, don't trust your co-pilot to pick it out.... (4,500 words)

More Outlaw Galaxy Short Stories

BillSmithBlog
The obligatory author's blog, full of rants, raves and shameless self-promotion. Right this way to www.BillSmithBlog.com.
Newsletter
(FREE!)
Get the latest news on the
Outlaw Galaxy
universe, story excerpts and previews.
Latest News
|
Archives & Subscribe (Free by Email)
To subscribe, just email
bill@billsmithbooks.com
and type "Subscribe."
Bill Smith is the author of: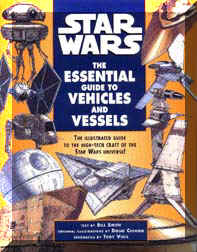 Star Wars:
The Essential Guide to Vehicles and Vessels

Star Wars: The Essential Guide to Weapons and Technology

Star Wars: The Roleplaying Game, 2nd Edition (West End Games)